Your new client, Snuffles the Singing Cat, has engaged your services to boost their media profile. They're interested in providing expert comment on anything singing-cat related, and have a particular interest in Broadway shows – after all, they did study at the BRIT school!
You're confident that with the help of Dot Star Media, you can keep an eye out for journalist requests which are relevant for Snuffles, and with the power of instant alerts, you can do it without spending all day on Twitter!
You choose your topics – Pets & Animals, of course, and perhaps Entertainment & the Arts – and throw in some glorious cat related keywords (and enhance them with the AI suggested options to be even more effective). Then with a glass of kale juice, you sit back and wait for the opportunities to present themselves.
Gah, what's this?! You keep receiving requests from Jonathan Griffiths who's writing for the 'Cats and Guinea Pigs In Industry' magazine. From checking his profile, you're confident these requests will never be relevant. What can you do?
This is the sort of user story which keeps Dan and I awake at night. How can we help make the requests you receive more relevant to your interests? Topics and keywords go a long way, but sometimes more is needed.
Today we're happy to make this a reality and we've added the ability to unsubscribe from requests from specific journalists. By simply clicking on the link at the bottom of one of their requests, they'll be added to your exclusion list and you'll never hear from them again: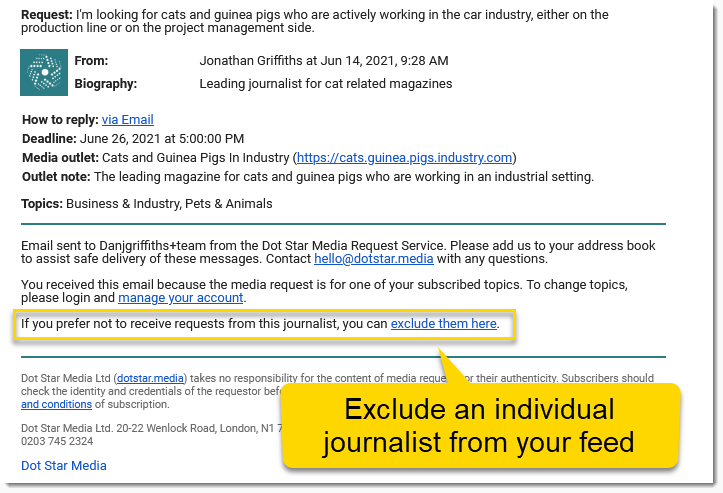 Added someone by mistake? Click the trash-can by their name and you'll receive their enquiries again. It is that simple: