Dot Star Media technology monitors tweets posted to #journorequest and other related hashtags on Twitter. We identify which tweets are requests from journalists and send prompt alerts to subscribers – by email, Teams or Slack.
Frequency of hashtags appearing in journalist requests can give an indication of what subjects are in journalist minds.
Many themes are seasonal or recurring. Knowing what typically gets talked about through the course of a (normal) year can help with campaign planning.
Here's a month-by-month look at top hashtags used by verified journalists over the last year or so.
May 2023
Looking at hashtags used by journalists on #journorequest in May 2023 we see artificial intelligence occupying minds with #ai appearing in multiple journalist requests this month. Other frequent hashtags seen in May 2023 media requests are #eurovision, #localelections2023 and #gardening and #holidays.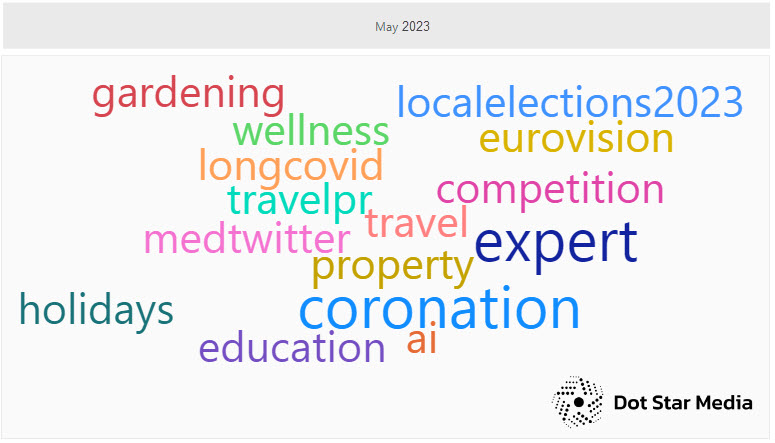 April 2023
In April 2023 the top two hashtags used by journalists on #journorequest were #ai and #coronation, followed by #travel and #juniordoctorstrike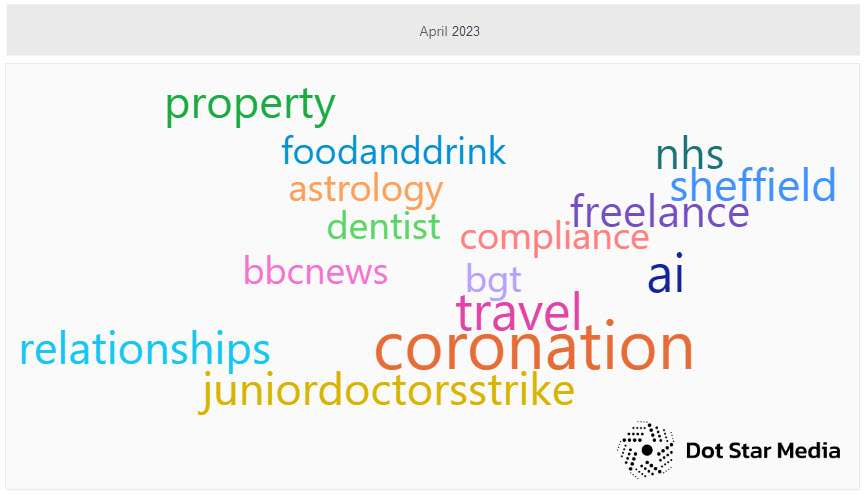 March 2023
#internationalwomensday and #iwd2023 were frequent topics in March 2023. There were requests about the #budget. #costoflivingcrisis dropped out of the top hashtags used by journalists on #journorequest for the first month in seven months.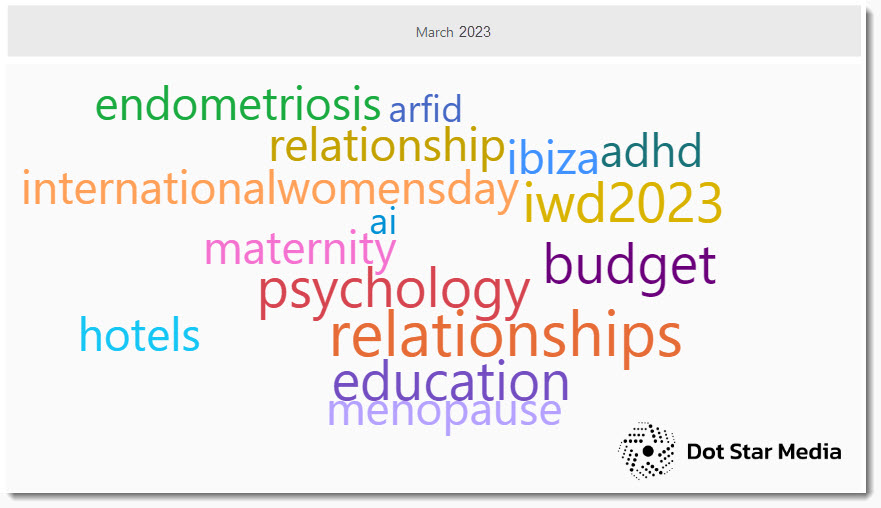 February 2023
#costoflivingcrisis was the top hashtag mentioned by journalists in February 2023 in their #journorequest posts. Journalists worked on story angles around how the cost of living crisis impacts the dating scene, living back at parents, socialising, and disabled people. Other common themes for February 2023 were #nhs and #valentinesday. Here's a word cloud of the most frequent hashtags in the month.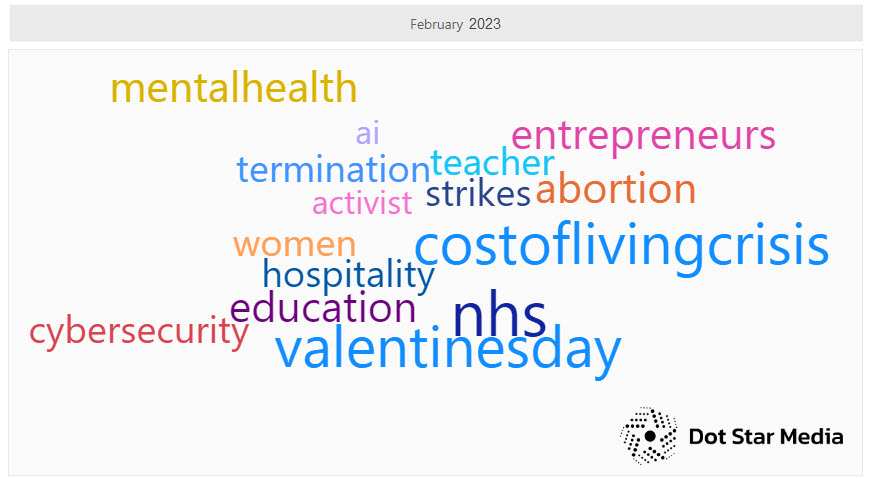 January 2023
The top five hashtags mentioned by journalists in Jan 2023 on their #journorequest posts – #nhs, #parenting, #travel, #mentalhealth, #fashion. And #valentinesday was next on the list. We spotted some useful thoughts from fashion writer Laura Craik on PR pitches hooked around Valentine's Day in a recent Roxhill RoxStars newsletter.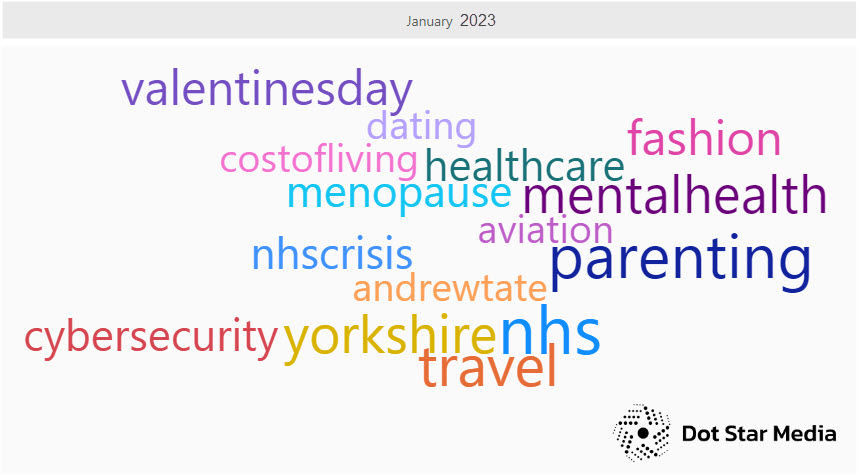 December 2022
In December 2022, besides #christmas, judging by the content of #journorequest (and related hashtags) on Twitter, the media turned its attention to #travel. Unfortunately #costofliving / #costoflivingcrisis topics continue, with 1970s style industrial relations topics emerging as new trends – #railstrikes appeared in our top hashtag word cloud roundup for the first time.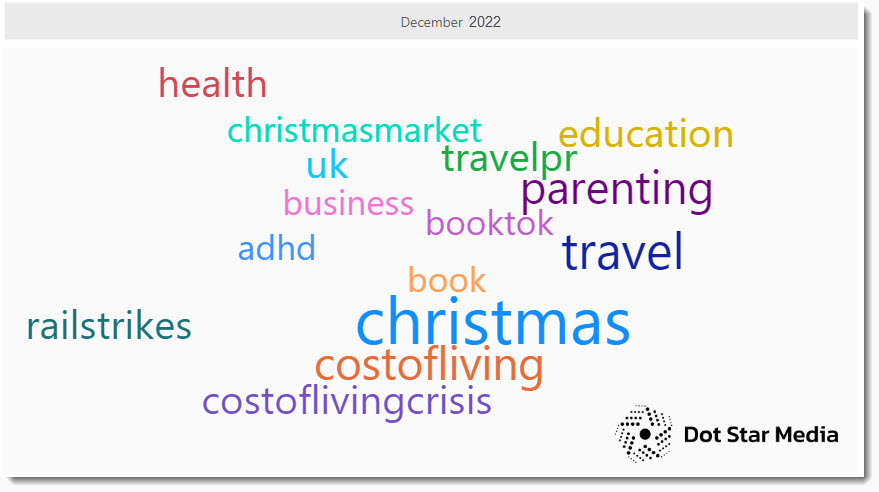 November 2022
Top hashtag in November 2022 was #christmas followed by #travel. There were a handful of popular hashtags around the football World Cup. As winter begins to bite, #costofliving and #costofliving crisis are topics that remain on the minds of journalists.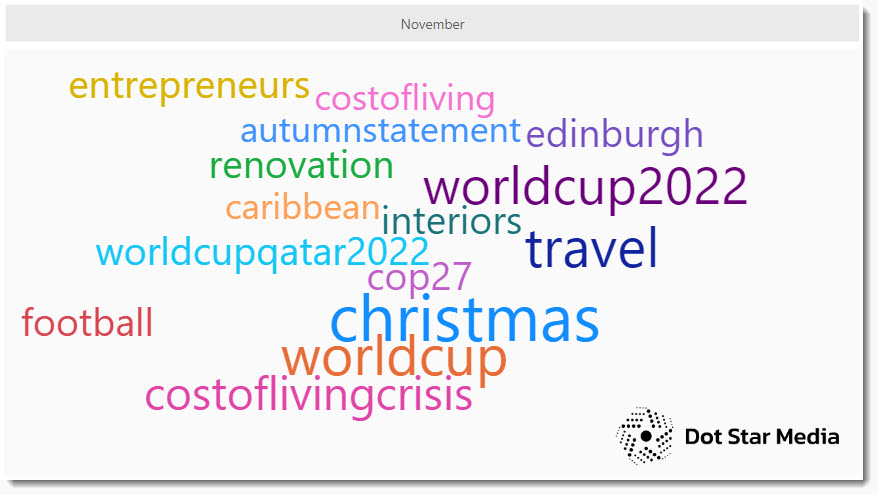 October 2022
For the third month running #CostOfLivingCrisis was the most frequent hashtag used by journalists posting journalist requests to #JournoRequest (and related hashtags) on Twitter. Related to cost of living issues are call-outs for data and case studies on the consequences of increasing #mortgage costs. Journalists looking for #Christmas related content is standard seasonal fare for October.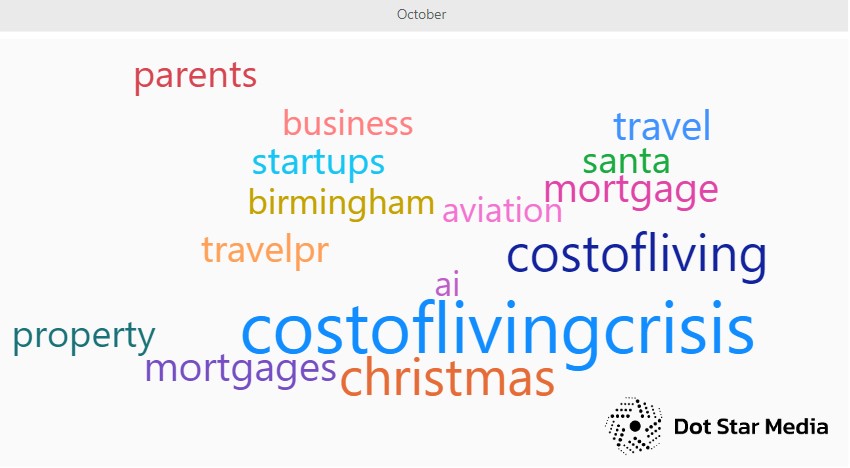 September 2022
#costoflivingcrisis and related hashtags, like #mortgage continue to be front of mind for journalists posting requests in September 2022.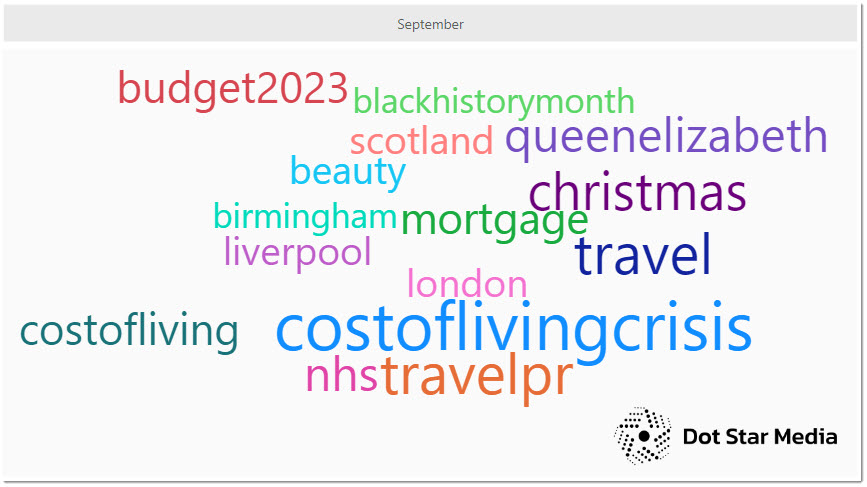 August 2022
#costofliving, #costoflivingcrisis and #energycrisis were frequent topics on Twitter's #journorequest in August 2022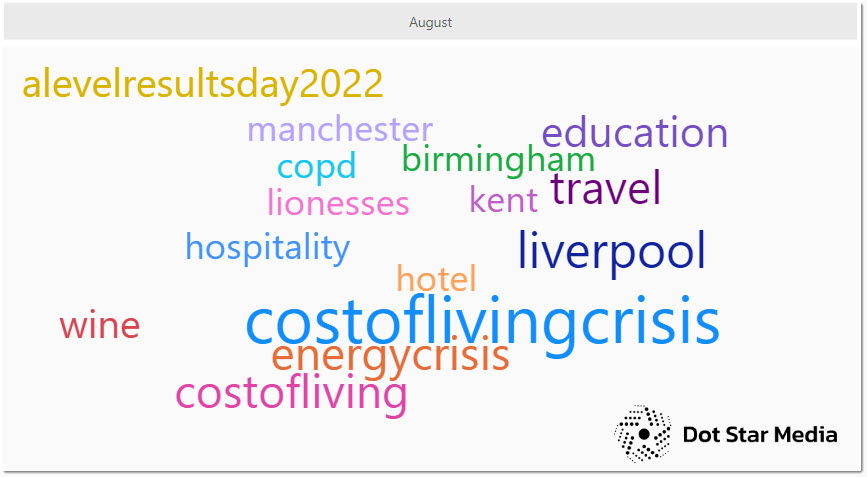 July 2022
In July 2022 the dominant themes indicated by hashtags used by journalists posting requests to #journorequest were sport with #euro2022 #lionessess and #commonwealthgames2022 prominent. Travel chaos that occurred at Dover (#dover and #doverchaos) at the start of most school summer holidays, and in the entertainment – again, #loveisland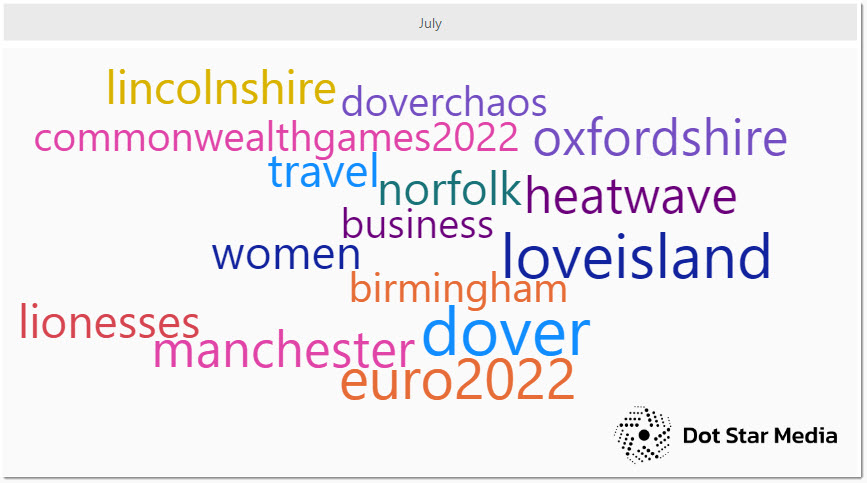 June 2022
June 2022 saw requests looking for comment on the impact of rail workers strikes. We also had the annual Pride month and the much anticipated return of Glastonbury festival generating media requests.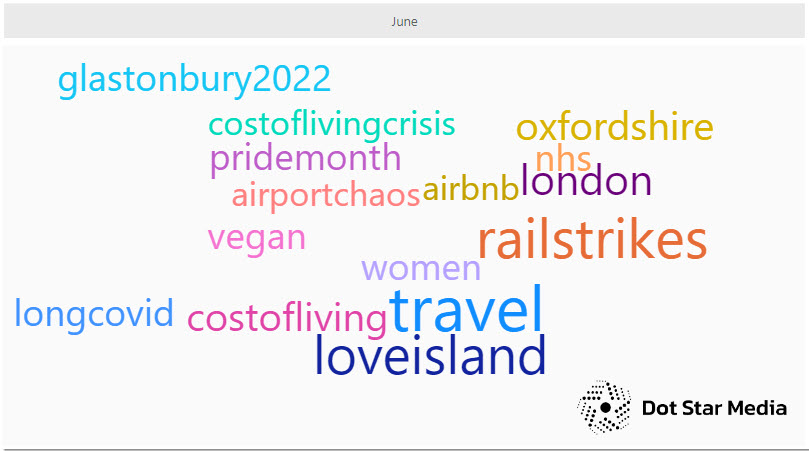 May 2022
Based on hashtag analysis of journalist requests the Cost of Living crisis was a dominant theme for May 2022. The #platinumjubilee is a less than once-in-a lifetime event and is getting plenty of journalists requesting contributions around jubilee themed events and activities.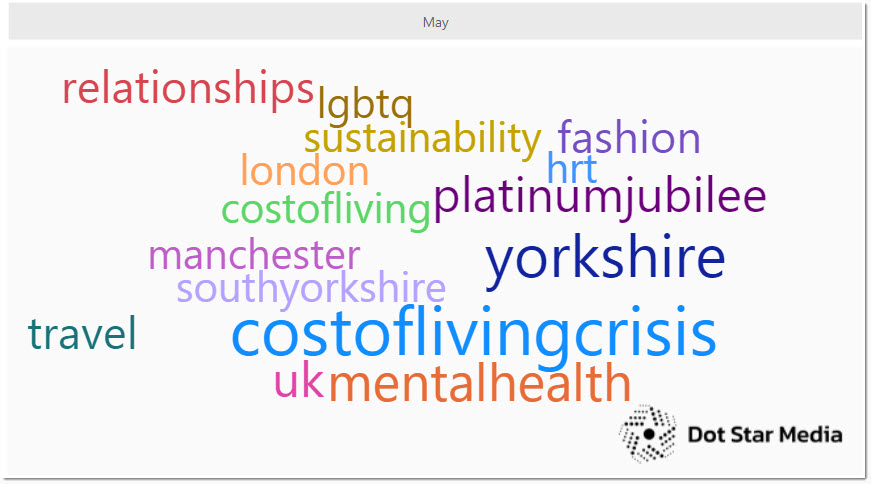 April 2022
Cost of living crisis and the HRT shortage emerged as topics in April 2022.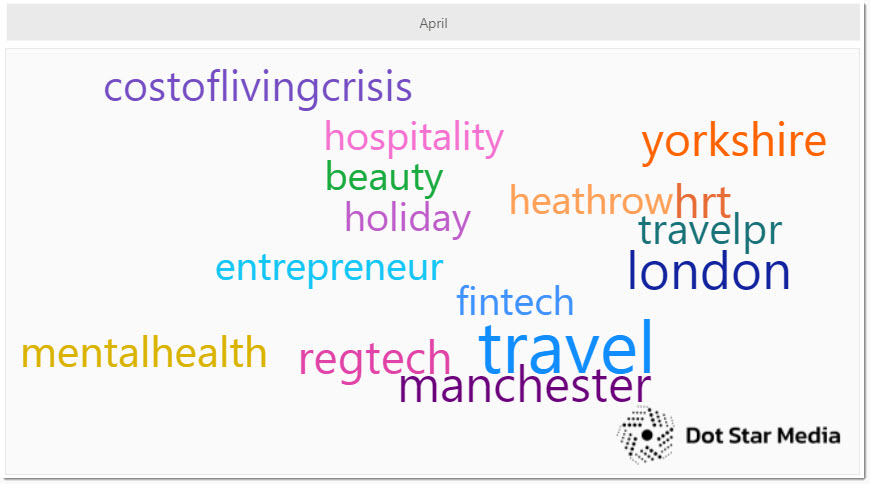 March 2022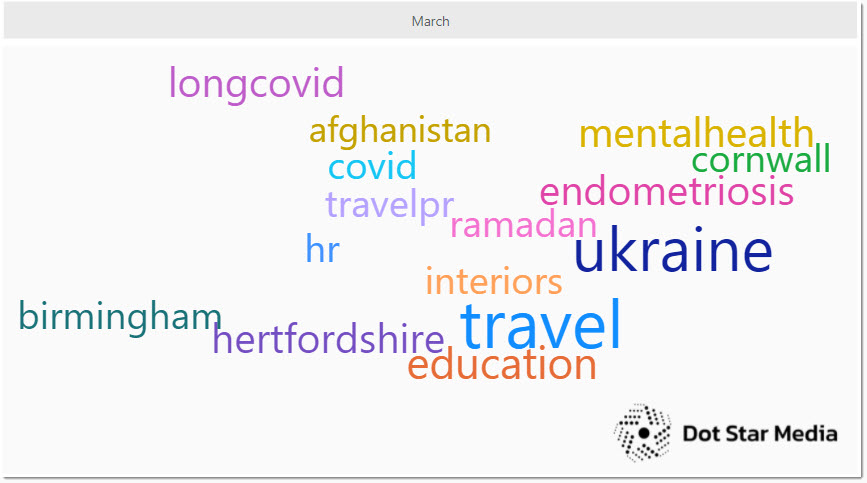 February 2022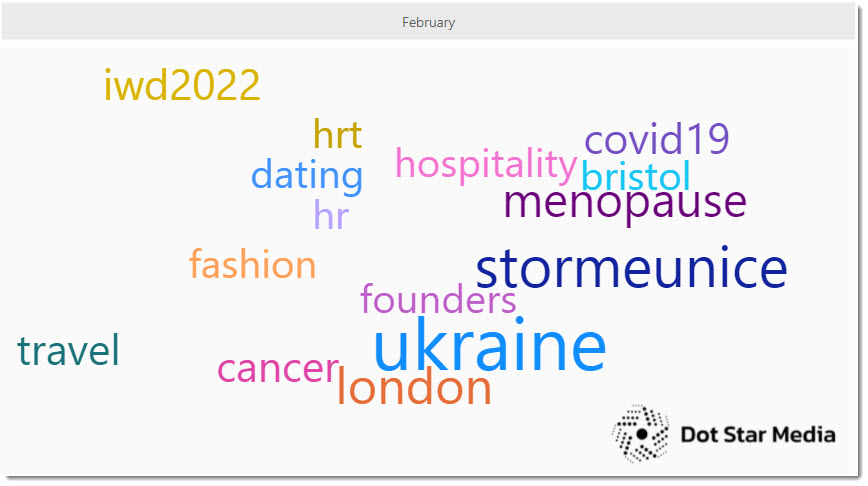 January 2022
Seasonal themes around Travel, and Valentines Day.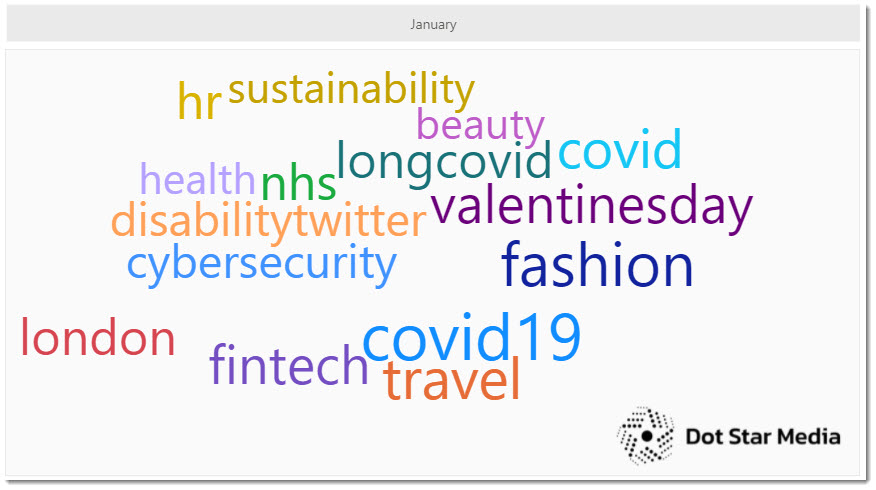 December 2021
Covid and Omicron were unwanted themes in December with NHS and Mental Health featuring regularly as related topics.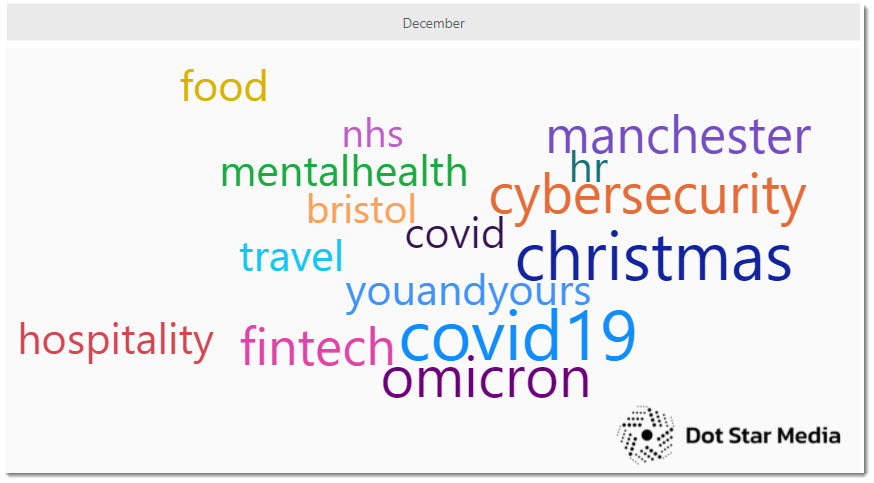 November 2021
November sees Black Friday which is an annual event in the UK now, usually occurring on the fourth Friday in November.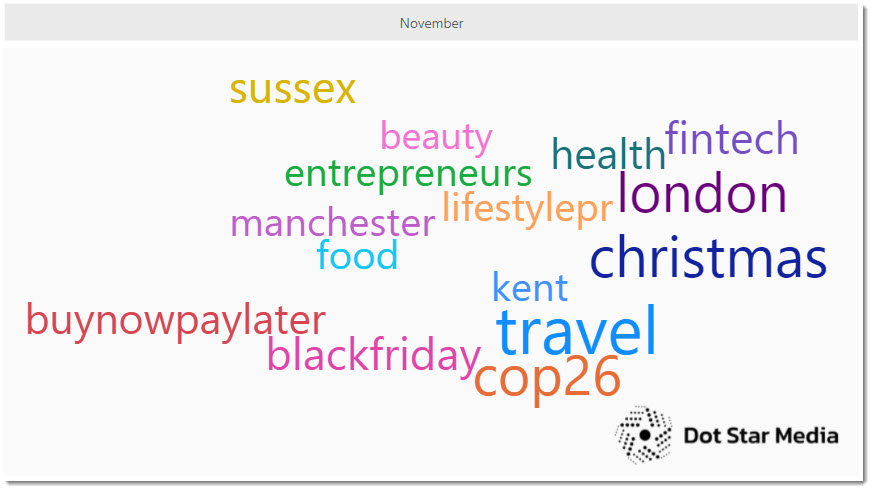 October 2021
October 2021 saw the COP26 climate conference, with Christmas and Travel themes also strong.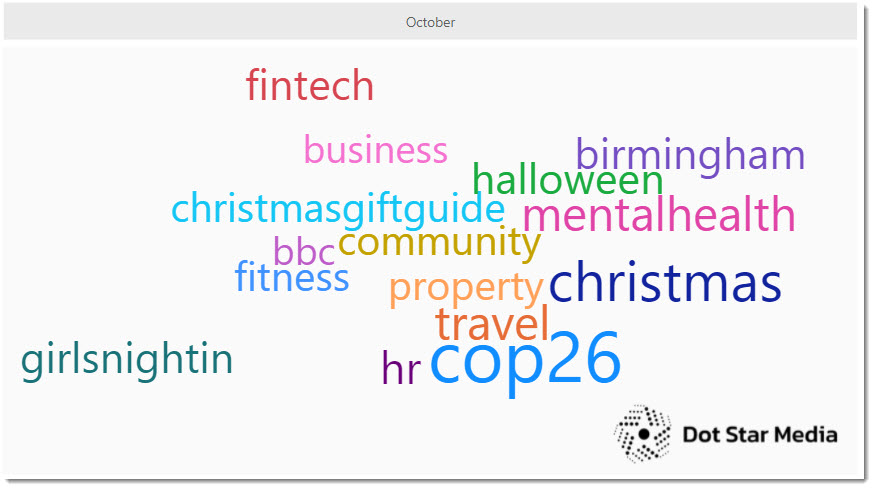 September 2021
In the early Autumn the data from #journorequest shows journalists turning their attention to Christmas stories, with product reviews, gift guides and Christmas stories.