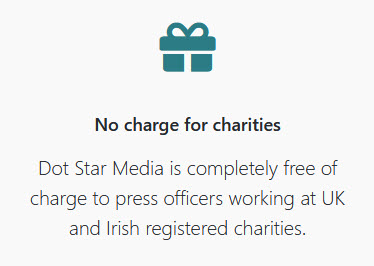 Jonathan and I are really happy that we've already reached a stage where we can provide Dot Star Media service to charities free of charge.
At the risk of sounding cheesy, we both want Dot Star Media to make a difference in the world. Everyone benefits from the amazing work of charities (some areas that are especially close to our hearts are education, health and the environment). So – although we're a new business and still have a lot of growing to do – we're taking the opportunity to give something back as soon as we can.
If you're a press officer at a charity in the UK or Ireland, you can find out more about why we're doing this and how your charity can benefit here: https://dotstar.media/charities/. We'd love to hear what you think of the service.
For more detail, here's the text of a press release we sent out today.
---
Dot Star Media launches free journalist request service for charities
Monday 12 April 2021
Media request monitoring and alerting service Dot Star Media announced today that it is making its service free of charge to UK and Irish registered charities.
Charity press officers use the Dot Star Media request service to receive and respond to journalist requests for comments, quotes, case studies and statistics for news articles and features.
Journalists and the media benefit from a media request service that provides access to a wide range of sources with a good balance of commercial and not-for-profit organisations participating.
Charities will have access to the full set of features, which include keyword filtering, digest options and delivery to Slack or Microsoft Teams. Dot Star Media allows charity press teams to receive a relevant feed of journalist request notifications without having to spend hours scouring social media.
Dan Griffiths, co-founder, said: "Journalists tell us they need a diverse range of voices. Charities (especially smaller ones) are often denied a voice because they can't afford the fees for traditional media request services. By offering Dot Star Media free to registered charities, we want to make a difference to as many people as possible."
Jonathan Tullett, co-founder, said: "Right from the beginning, we pledged a percentage of Dot Star Media's profits to green causes, because we want to build a socially and environmentally conscientious organisation. I strongly feel we should always be trying to do more and this is another step towards that goal."
Free access to Dot Star Media for charities will initially be limited to the first 1,000 qualifying charities registering.
Registered charities can sign up to try the service at https://dotstar.media/charities/
About Dot Star Media
Dot Star Media supports professional journalists and broadcasters by distributing their media requests to a diverse range of organisations. Charities, universities, businesses, and public relations professionals all benefit from an efficient way of monitoring, receiving, and responding to the best journalist requests shared on social media – without having to spend hours wading through noise and spam. The company was established in January 2021 by PRTech industry veterans Jonathan Tullett and Dan Griffiths. For more information visit https://dotstar.media/about
---