Keyword filtering is a powerful way of streamlining exactly which requests make it into your mailbox. It's a feature we added just a week after launching, and is incredibly popular with our customers who have email alerts enabled.
As well as email alerts – an industry staple for decades – Dot Star Media has pioneered the use of the workflow management tools MS Teams and Slack as a delivery mechanism, and it's growing in popularity amongst our users.
Because these delivery methods are at the organisation level, they were developed only with topic filtering in mind; keywords were not considered appropriate at the global (organisation) level.
From the feedback we received, this was an incorrect assumption! Keywords are desirable when using workflow management tools.
So (and you must have known this was coming): You spoke, and we listened.
Organisation keywords are here! The page looks remarkably like your personal keyword page and it works in the same way. The only difference is the keywords entered are only used for enquiries which are delivered via MS Teams and Slack. This does make it a Gold level only feature: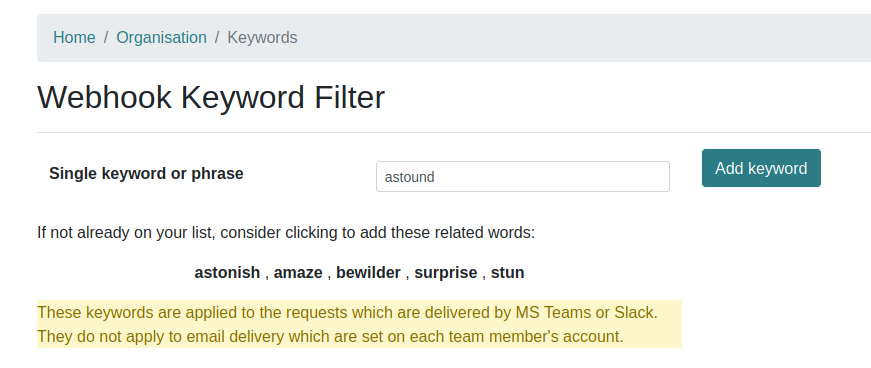 While talking about keyword filtering, we have some articles on the importance of a good list, and seeing how effective your keywords are which may be of interest.
We love getting feedback about these developments. It's your feedback which helps us plan the future of this service so please let us know what's important to you.