Just a few months after launch Dot Star Media has improved the way organisations monitor social media for journalist requests. We're helping hundreds of individual subscribers jump on the 'quick reaction' media opportunities available on Twitter, without spending all day on Twitter.
Innovation in media requests
We're also pleased to have introduced these innovations to the journalist enquiry service market:
We will continue to work with subscribers when developing further improvements.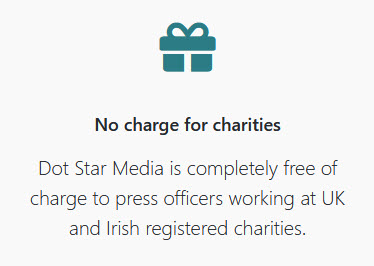 Charity initiative
What Jonathan and I are most proud of, however, is the free 'media request service for charities' initiative. This is making a real and positive difference to the media relations activities of over 100 qualifying charities. Franchesca Allen from the press office at Macmillan Cancer Support said:
"Dot Star Media offers a simple, user friendly service which has allowed us to identify opportunities for our campaigns, which we were previously unable to benefit from due to limited resource to search for opportunities. It's also allowed us to create and build new media relationships across consumer titles such as Refinery29, LadBible and VICE."
Join us
To try Dot Star Media for yourself please register at https://dotstar.media/register