The Dot Star Media journalist request service is one year old. We're proud to have helped journalists find sources and subscribers earn media coverage. Over 1,000 media relations professionals at PR agencies, businesses, charities, and universities are receiving journalist requests via Dot Star Media. Here are some testimonials.
We've enjoyed bringing innovation into the journalist request space. Here's a round-up of some of the developments from our first year.
Super fast automated #journorequest alerts (Jan 2021)
Speed of journalist request alert delivery matters. Busy journalists with looming deadlines will often go with the first (good) responses they receive. Thanks to automated text scanning and classification of journalist requests most of the alerts we distribute are received by subscribers within seconds of being posted. This gives Dot Star Media customers an advantage in responding quickly.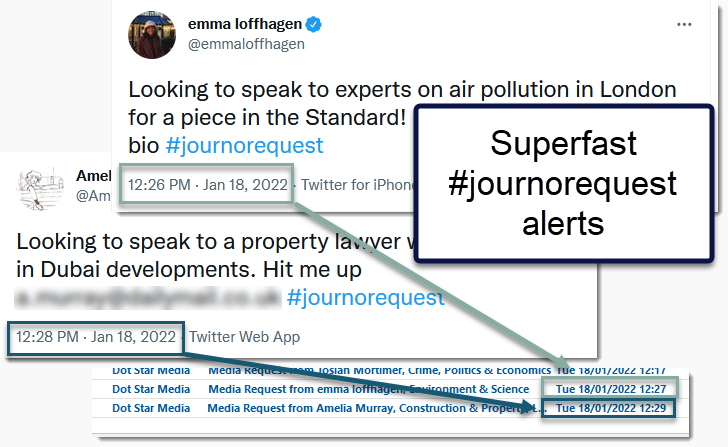 Journalist requests in Microsoft Teams, or Slack (Jan 2021)
Some subscribers use Slack or Teams to manage workflow. Depending on how your organisation operates, receiving media request notifications in a Slack or Teams channel can offer some advantages over receiving alerts by email: delivery to Slack is quicker than email and it's easier for your team to collaborate on the best way to respond to a request.
Journalist request keyword filtering (Jan 2021)
Keyword filtering means that niche businesses and single issue campaigning organisations can receive relevant journalist requests without being distracted by alerts that are irrelevant to them. Keyword filtering of requests benefits journalists too because it means a wider pool of sources find value in monitoring journalist requests.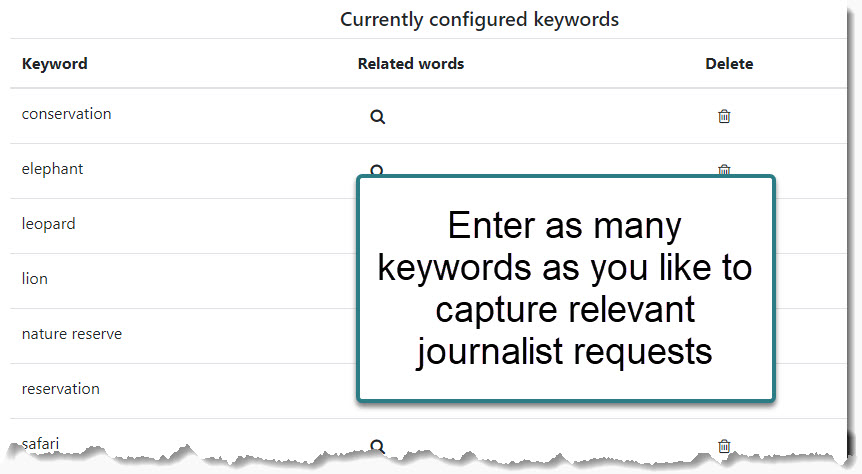 Journalist request digests (March 2021)
In March 2021 we added Journalist Enquiry Digests. These emails group requests – still filtered by topics and keywords – into a single periodic alerts sent at pre-determined intervals. Digests alerts look like this: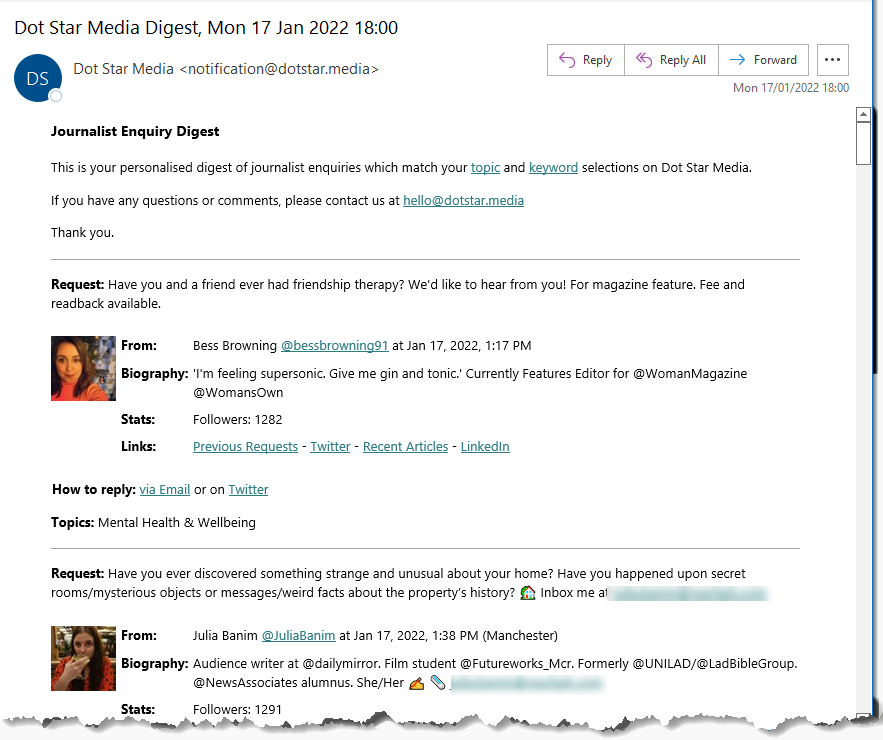 Artificial intelligence keyword suggestions (April 2021)
What sort of tech company would we be without using a bit of AI? When entering keywords for keyword filtering, we're using a Semantic Network Robot for finding words that are related to the original keyword. This is useful for building a keyword list because it's quite hard to predict what words a journalist will use in their requests.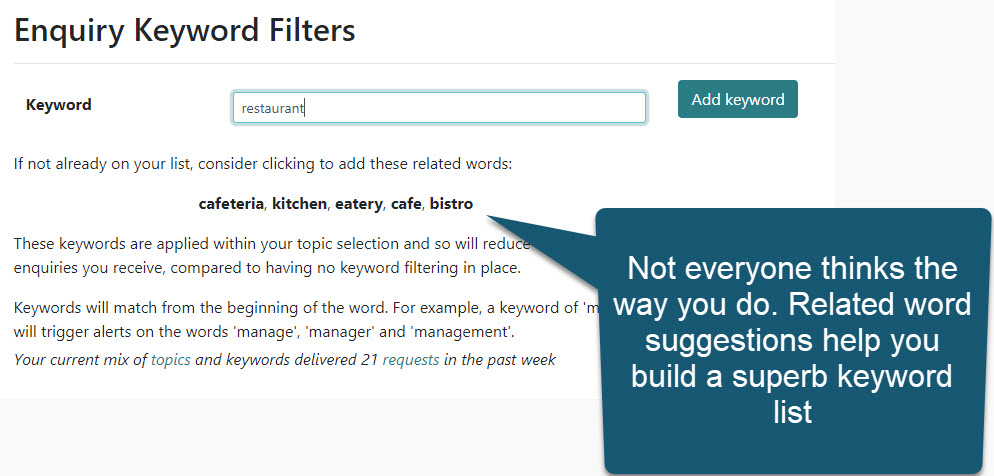 Journalist request submit form (May 2021)
In May 2021 we added a journalist request submission form for journalists. This means we can support journalists who want to send more detailed briefs than Twitter allows or prefer to avoid the public nature of social media.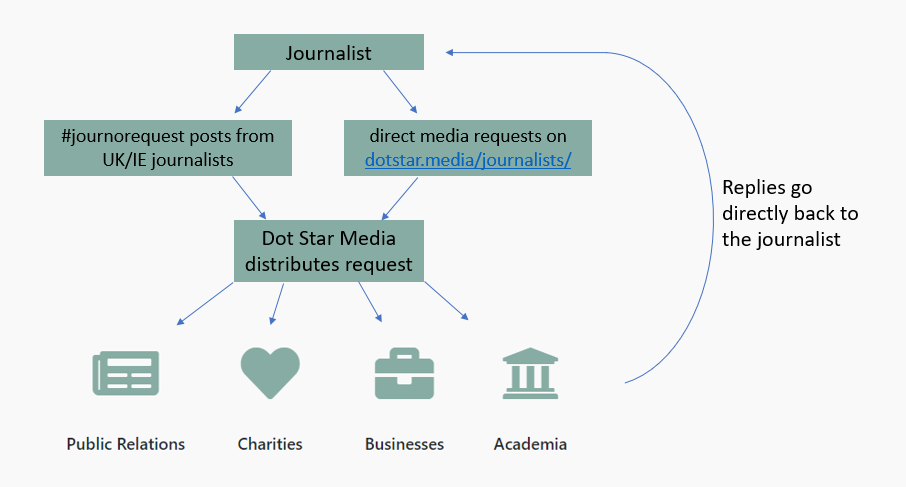 Block individual senders (Jun 2021)
For those that monitor #journorequest on Twitter the 'mute' option is useful for hiding Tweets from twitter handles that are not relevant to their work. We've added similar functionality to Dot Star Media journalist request alerts. It's easy to exclude any individual sender from an alert feed.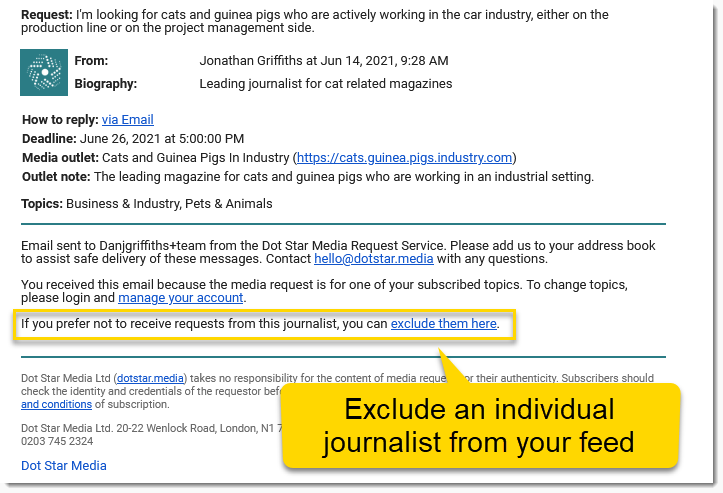 Enquiry search (June 2021)
Sometimes it helps to look back. The enquiry search page provides a keyword search of historic journalist requests. If you want to find a list of journalists who have recently requested input on a particular subject, enquiry search can help.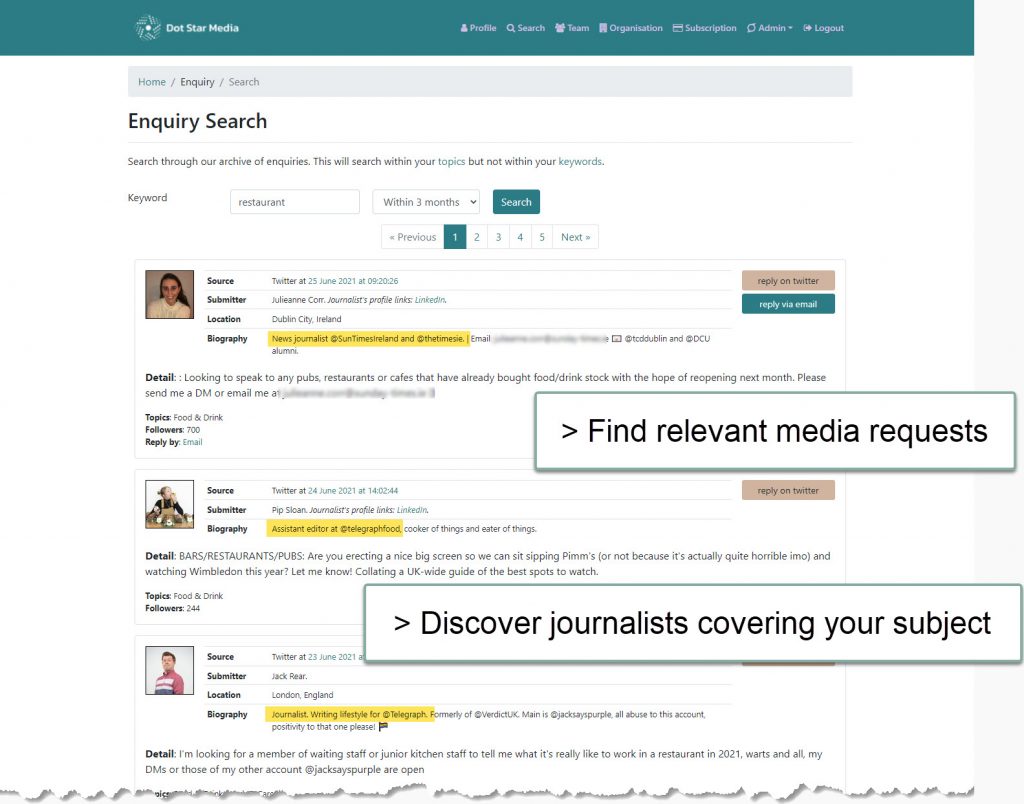 See the effect of keyword filters (Aug 2021)
This development came out of a conversation with a customer who wanted to toggle their filters on and off. The customer wanted to which requests their keyword filters were removing from their feed, and to scan the unfiltered request stream for possible new keyword filters to add.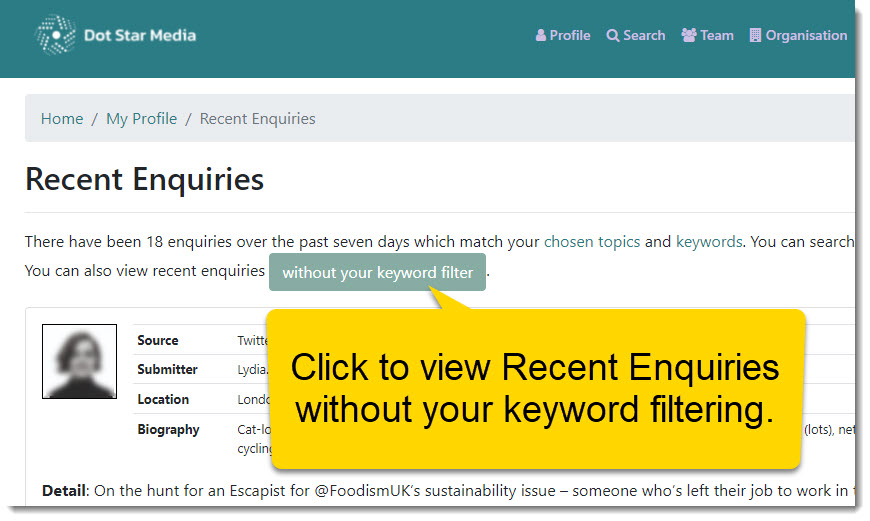 Filter requests by number of followers (Aug 2021)
The journalist follower threshold allows a subscriber to filter journalist request alerts based on the number of followers a journalist has.

Advanced filtering with word boundaries (Sep 2021)
For more precision on keyword filtering we enabled regular expressions on the filters. In the image below the word 'ai' is given a word boundary, performing a whole word search. This stops alerts on 'airport', but continues to alert on 'AI'. Occasionally very useful.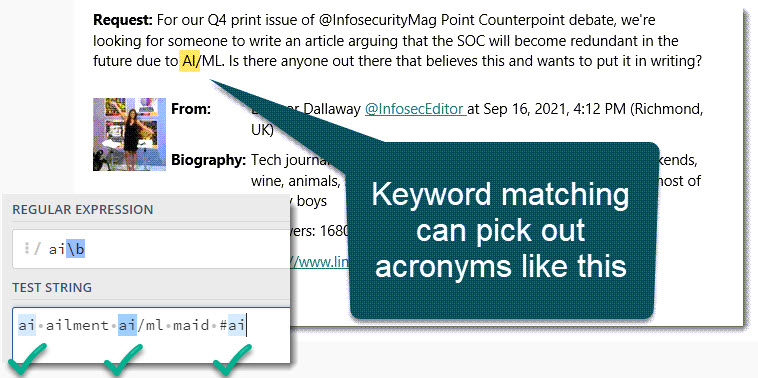 See a journalist's previous requests (Oct 2021)
We added a page that gathers together an individual journalist's previous requests. Looking through earlier requests helps in understanding a journalist's style and the subjects they have previously covered.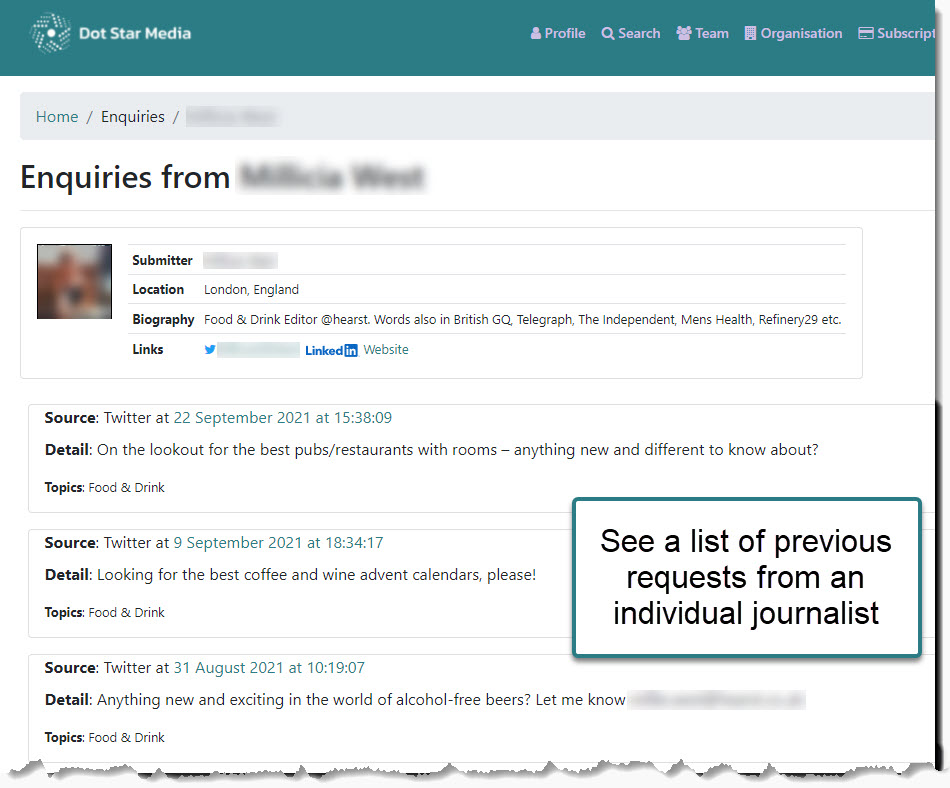 Recent article links on journalist request alerts (Dec 2021)
We improved the journalist information links section on journalist request alerts with the addition of links to Muck Rack 'recent articles' pages.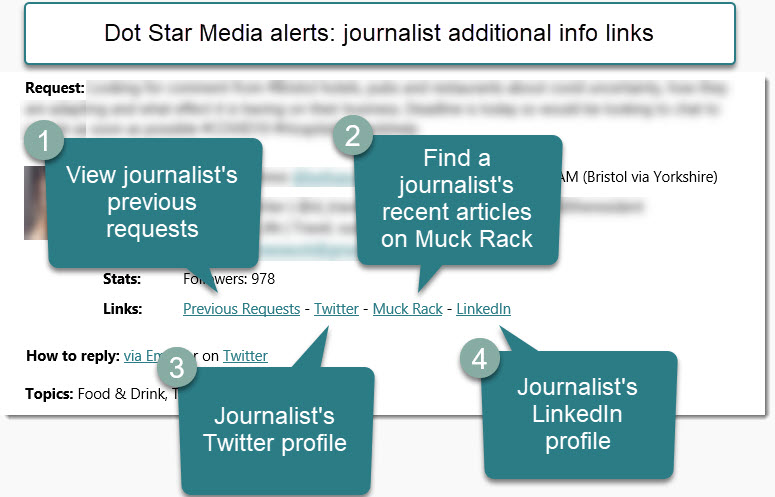 Sending and receiving journalist requests
Journalists can submit requests at https://dotstar.media/submit. There is no charge to submit a request.

To receive journalist requests please register for a two-week free trial at https://dotstar.media/register